The Tel Aviv Luxury Real Estate Market is Alive & Well on Rothschild Boulevard & Lev Hair
Record transactions took place over Q1-Q3 2012, showing the continued strength of the luxury real estate market in Tel Aviv. The Downtown (Lev Hair) neighborhood of Tel Aviv saw a lot of action, thanks in part to its combination of new high-rise projects set alongside highly desirable historic buildings from the 1920's.
Premium homes are much sought after in Tel Aviv, with prices ranging anywhere from 10,000 – 22,000 USD per square meter, with demand not nearly satisfying the supply. New projects are being built, many however, are 2 to 4 years away from completion, driving prices of completed homes to new heights.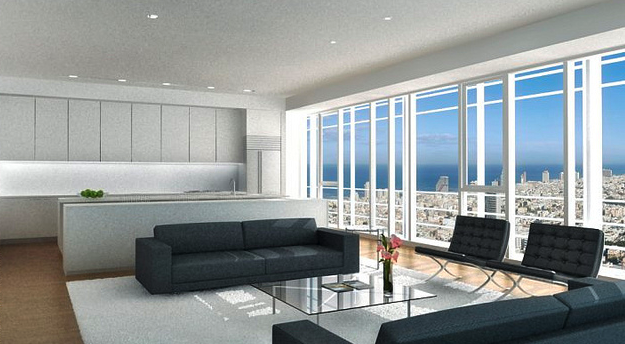 The month of March saw the sale of a 395 square meter unit in the Meier on Rothschild tower, with the buyer paying slightly over 5 million USD for a unit shell occupying a half floor in the building. This summer also saw the sale of a studio apartment in the tower for 960,000 USD. The Meier on Rothschild tower is amongst Tel Aviv's newest and highest profile projects that have been started, being world renown architect Richard Meier's first foray into the Tel Aviv skyline. The project will soar to an impressive 37 stories over the city's prestigious Rothschild Boulevard in the heart of the Downtown and Financial District, with prices beginning at 1.4 million USD for 1 bedroom units and topping out at approximately 40 million USD. The building will be world class, on par with Meier's previous projects, and will feature world-class amenities and breath taking views to the entire country & Mediterranean.
In addition to the recently completed Rothschild 1 and Rothschild 30 towers, the neighborhood will see a number of both new high-rise residential, commercial, and historical preservation projects being commenced this year, including Rothschild 17,  and Aviv on Rothschild, and  making it one of Tel Aviv's hottest areas for development.